Tensile Membrane Structure & Sunshades Gold Coast from MakMax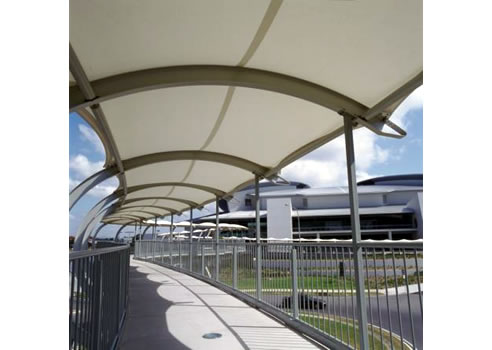 Tensile Membrane Structure & Sunshades Featured at the Gold Coast Convention Centre from MakMax
Special features
This tension membrane structure covers the winding walkway between Jupiters Casino and the Gold Coast Convention Centre for a total length of 354m.
20 sunshades were also manufactured for the side of the convention centre averaging 3.5 x 8m each. 900sqm of PTFE fibreglass fabric was used for the project.
The walkway structure was manufactured in 26 separate pieces. Due to time constraints all 26 separate membranes had to be fabricated before the bridge was built. By the time the first rafters were erected, all the membrane sections were complete and waiting to be installed. Only minor adjustments were required.