Adjustable Glass Racks from 3monkeez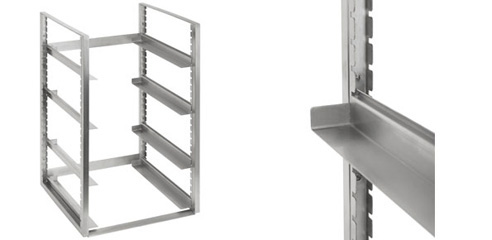 Steel framed sets for glass shelving are extremely popular in businesses today. They add a modernistic method of providing displays, shelving separators, even computer desks.
Adjustable glass rack units provide an assortment of wall columns, with a most contemporary design, offering versatile combinations. The stainless steel frames install easily, are very cost effective, well tested and strongly made. For wall presentation interiors, these units are extraordinarily functional. They easily fill free wall space within existing interior areas. They can be mounted on a counter or wall, or on the floor as a low level display.
Such rack systems are completely adjustable to any interior and to the taste of the owner. The steel frames of the rack provide tasteful interior designs, along with reliable, secure, and durable display of your products.
Storefront metal and glass displays not only impact the style and appearance of beauty, they also create the impression of a successful business to your customers. You can choose an infinite variety of mounting options, and quality hardware available in numerous finishes. Stainless steel brings a simple, clean look; however, it can be painted any shade to match or contrast your business's interior décor.
These new lines of glass shelving may be used for interior, exterior, practical displays, functional storage, or as an architectural element on your building. The tempered glass shelves provide wear resistance and superb load capacity. Complex designs such as book shelves, wall units, art displays, entertainment centres and more are among the applications for these frames and glass shelves.