Polyurethane Flooring System from Poly-Tech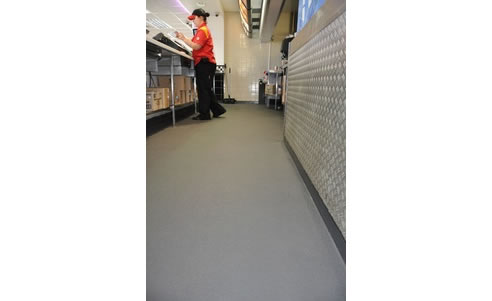 Hungry Jack's stores can be found in every state in Australia with over 300 locations. The expeditious nature of their business subjects floors to many harmful elements like oils, fats, food materials and chemicals.
Hungry Jacks Elizabeth contacted Poly-Tech as isolated areas of their tiled floor became loose, drummy and slippery so caused safety issues with staff.
They required a flooring solution that could withstand exposure to the corrosive effects associated with fast food retail, maintained safety and cleanliness standards and ensured durability in high-use areas.
Instead of re-tiling the whole store meaning loss of trade and significant additional costs for new tiles, a polyurethane system was specified which enabled the kitchen area to be completed within a very quick turnaround (3 days), was seamless for easy cleaning, free of grout lines that can harbour bacteria, provide an excellent slip resistance, had heat & fat resistance and was cost effective.
Preparation began with grinding the old tiles followed by the detailing around the drains and the perimeter grading. Repairs were also made to loose and drummy tiles prior to laying. The final installation consisted of a 5mm non slip polyurethane system and a final seal coat in the desired colour resulting in a cost-effective and reliable solution for all areas of store.
Poly-Tech understands fast food retailing operations. We constantly work closely with store managers to ensure our flooring projects are in tune with existing operational practices, minimise down time and loss of trade and provide flooring solutions that can withstand even the harshest cleaning regime.