PROMASPRAY® Fire Protection of Air Ducts from Promat Australia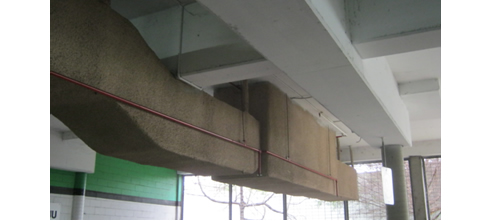 Vermiculite/Plaster Spray for fire rating air ducts

Promat takes the safety of life and property very seriously; it is the very essence of our business. We strive to deliver the most effective and cost competitive systems and products for fire protection that comply with building regulations around the world. We continually research and develop new products and systems, as well as improve our existing products. It is with great pleasure that we announce that in early 2013 we will release PROMASPRAY® P300, our new system for the fire protection of air ducts. PROMASPRAY® P300 will require a lesser thickness of product applied than our current CAFCO® 300 System (only 40mm product thickness for air supply to fire exit passages and 36mm product thickness for smoke spill and extract ducts to achieve a 2 hour fire rating). Evidence of Suitability as required by the BCA will also be available prior to release for approval authorities. Please do however be assured that our current CAFCO® 300 remains an effective and compliant solution for the fire protection of air ducts and steel. Therefore CAFCO® 300 is and will remain available for those who may not wish to make the change and Evidence of Suitability as required by the BCA is available to approval authorities. PROMASPRAY® P300 is only one of many initiatives to be released in 2013 and we look forward to delivering more good news to the industry. Promat looks forward to your ongoing support in our efforts to deliver the very best products and systems for fire protection, whilst at all times striving to drive down cost without compromising life safety.