100% Chemical Free Cleaner from Bio Natural Solutions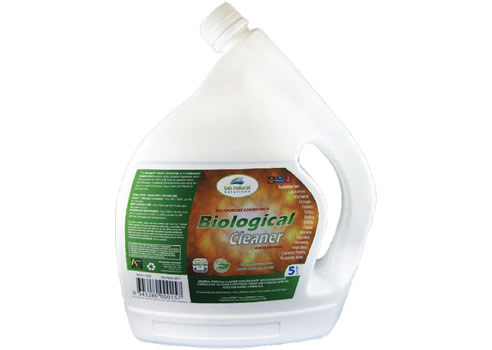 Biological Cleaner is a powerful concentrate which has been formulated with beneficial probiotics, making cleaning quicker, easier and more effective. The product keeps working after you have finished wiping. Its cultured bacteria decompose organic matter such as urine, blood, soap scum, grease and fats by creating digestive enzymes that help bio-degrade complex compounds. Most impressively, the bacteria work upon application, meaning that long hours of cleaning are a thing of the past when you choose Biological Cleaner.
You can make this product your only cleaner. Biological Cleaner replaces most cleaners on the market and it is 100% chemical free!
Concentrated Formula
The Biological Cleaner concentrated formulation carry environmental benefits producing a smaller carbon footprint due to the use of less plastic and other packaging materials per product unit, require less fuel consumption during shipping, and contain less materials for disposal.
Additionally this is a biodegradable product that does not have a dangerous goods classification and or pose risk in terms of materials handling and transport. This unique product can be diluted up to 1:50 which gives the product greater flexibility and makes it more economic.
Key benefits
TRULY BIOLOGICAL - 100% CHEMICAL FREE
Keeps working upon application
Australian owned & made
Biodegradable and sustainable
Removes offensive odours
Reduces blockages
Non-hazardous formula
Non-flammable
Ideal for waterless urinals
Septic tank safe
Reduces your carbon footprint
Safe for all plumbing types
Suitable for
Spray & wipe - washrooms - bathrooms
toilets- kitchens - showers - vanities - drains
mirrors - urinals - laundries - sinks - glass
floors - ovens - BBQs - wetsuits - wall tiles
wheelie bins - rubbish bins - ceramic floors
change rooms - waterless urinals
Simply control its strength by adding water!
*Water not included.