Garden Steps with Steel Edging from FormBoss Metal Garden Edging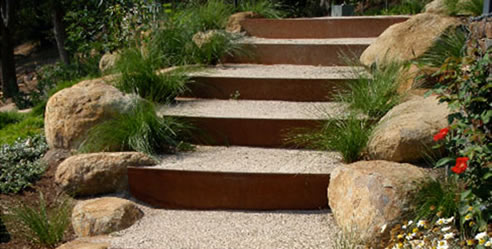 Steps With A Difference
Steps can easily be created using FormBoss™ steel edging profiles to form a strong and durable front face to a step. They are very popular in our Corten steel version, because of the natural organic weathered look, it also offers a natural anti-slip feature as the edge is textured. Our Galvanised steel can blend in very well since grey is a neutral colour, and can look fantastic in modern buildings. Using FormBoss™ for steps gives you total freedom of design, you can have them straight, curved, with angles or why not create something completely unique. We offer a wide range of profiles to suit almost any step height, and utilize our wide range of our angled stakes to make sure they remain strong and secure after many years of use.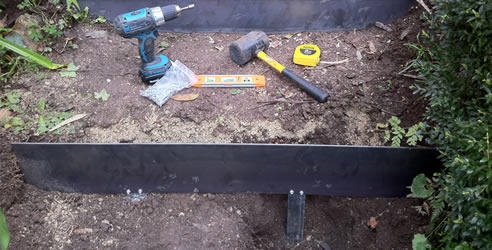 Displaying how angled stakes reinforce your step, before back filling over the screws.
The installation process is basically the same as a standard installation, with a few exceptions. Please refer back to the video and standard installation instructions for the basics:
Angled stakes are required rather than the standard tapered staked. You get a lot of strength out of our angled stakes which will allow you to have quite a bit of foot traffic using the steps without any strength problems.
We recommend using angled stakes of at least twice the length of the edging profile height used for optimum anchorage.
Generally the spacing of the stakes is marginally closer than standard edging applications, we generally recommend 4 per length, or 600mm centres as opposed to the standard 3 per length or 800mm spacing. For heavy traffic areas use 400mm spacing for extra strength.
We recommend burying around 40% of your edging as opposed to the standard 30%, this will give the edge a better back bone and keep it strong for years to come.
For further strength and longevity we recommend concrete haunching, or concreting the base of the stakes at least. If creating public steps or retaining walls, concrete haunching can be very important for the edging to sustain its durability.
Having clean creative steps can really do a lot for your design. Make sure to find a nice crushed rock to finish your steps with, crushed rock will drain really well, and comes in many different colours. This is steps like never before, FormBoss™ allows you to have complete control over your design!
What's your next step?