Vertikote Group Aquires Coating Services Australia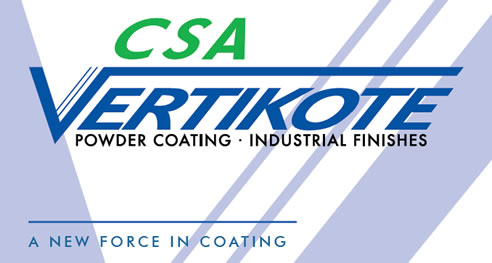 VERTIKOTE ARRIVES IN VICTORIA
Vertikote Group announces it has acquired the assets of Advance Sprayer P/L t/as Coating Services Australia (In Liquidation) and will establish a new coating services business that will be based out of the former CSA site at Dandenong in Melbourne's south east.
A new entity CSA Vertikote (VIC) Pty Ltd will trade as CSA Vertikote and will commence operations in mid October 2013 where it will immediately provide a broad suite of high quality powder coating and industrial coating services to the Victorian market place. Our customers will benefit from Vertikote Group's substantial technical knowledge, comprehensive range of products, systems and services for factory applied coatings and/or on-site works to meet their coating needs.
Vertikote, a family business established in 1958, is one of Australia's leading and most experienced applicators of high quality powder coating and industrial finishes servicing a diverse customer base participating in architectural, industrial, engineering, manufacturing, infrastructure, transport, commercial and residential markets. Fully Accredited with all major powder & paint suppliers, the commitment to quality is second to none and includes the highly regarded Qualicoat Licence approval for its NSW architectural aluminium plant. Vertikote offers the most extensive warranty's on the full range of aluminium and steel products and systems.
For nearly 45 years the former CSA business successfully serviced the Melbourne market providing high quality coating services. Operating specialised equipment, CSA was known for efficient and well proven production processes, quality service and best practice technologies that were also fully accredited with major suppliers.
Vertikote Group's Managing Director, Mr Paul Fallas noted "It gives us great pleasure to enter the Victorian market as a new high performance coatings and services provider. Over the years we were regularly asked to set up in Victoria, now we are here, ready and raring to go. We have appointed Keith Coombe as our Operations Manager for Victoria and we are very confident that under his leadership, coupled with Vertikote's technical expertise, focus on quality finishes, flexible and fast turnaround times, we will offer the local market the options and best value solutions to satisfy all customers' needs. CSA Vertikote will be focused on setting benchmarks for highest quality and fastest lead times that result in a competitive edge for its customers."
The arrival of Vertikote into Victoria brings unmatched experience and operational knowledge for application of all powder coatings and industrial finishes, a strong commitment to providing quality outcomes and service, prompt turnaround, extensive options and all at best value.
To learn more about us, discuss your requirements further or to arrange a quote, please call, email or visit our website www.vertikote.com.au