Urinal Flush Timer Available Online from Bio Natural Solutions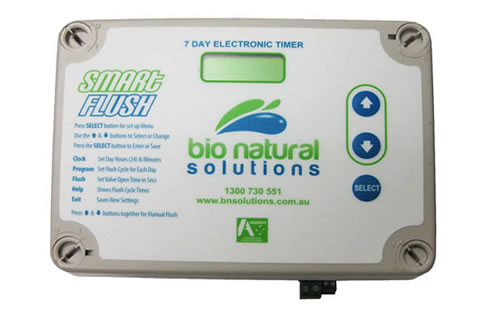 The Smart Flush Urinal Flush Timer from Bio Natural Solutions is now available for purchase on the Spec-Net Online Shop.
The Smart Flush is a universal 7 day timer which has been specifically designed for application in urinals - unlike other timers that are more often than not designed for irrigation and agricultural applications.
The Smart Flush is the most flexible timer on the market as it can be easily programmed to flush urinals automatically from 1 to 48 times per day with the flexibility to program each day of the week individually.
Flushing frequency is also highly flexible because it can be programmed from 1 to 90 seconds in 1 sec increments, no other timer in existence has this option.
Smart Flush Features:
Electricity and Battery powered.
Automatic flush controller
Programmable 7 day timer
24 hour or am/pm clock
Variable number of flushes per day (between 1 and 48)
Changeable flush duration (between 1-90 seconds)
Manual test function and manual external switches available
In built power supply for power failure, saves settings for up to 14 days
Plugs onto ZIP urinal flushing valves
Can be easily adapted to motion sensors
Australian Made and Designed
Using the Smart Flush makes it very easy to take control of flushing out of the hands of staff, customers and cleaners - saving large amounts of water.
By installing the Smart Flush you can save an average of 96% of water per urinal per year. This equates to nearly 150,000L of drinking water saved per year per each urinal. Added to savings in discharge rates, this represents huge amounts of money saved.
View this item and more from Bio Natural Solutions on the Spec-Net Online Shop.