Classroom Dividers and Solutions from CS Cavity Sliders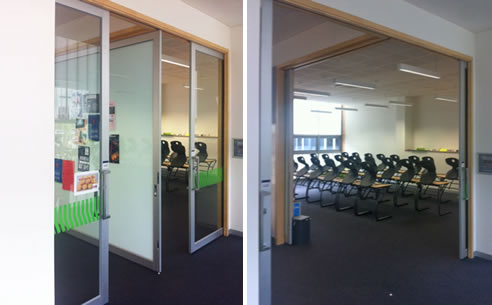 Tintern School - East Ringwood campus
CS Cavity Sliders and Melbcon Construction were involved in the construction of a new 2 storey Middle School building at the East Ringwood campus. This new facility incorporates both a Male and Female wing including 12 classrooms/learning areas upstairs with student amenities and plant rooms downstairs. A link between the two buildings encompasses a Staff Work area with Co-ordinator's offices and Unisex toilets adjacent. Spacious stairwells provide access to both wings along with easily accessible external concrete constructed ramps.
CS began work with Architectus Melbourne in the design phase in order to help create space and flow between class rooms and hallways. The brief was to be able to open up and close off large areas easily. Architectus forwarded through a preliminary sketch to outline their ideas and the CS engineering team went to work to come up with a solution - bi parting units meeting a corner meeting unit. Additionally many standalone cavities were required for areas that did not necessitate such large openings, but maintained the same aesthetic flow throughout the project.
The use of CS CornerMeeting detail on the project enabled flow between the rooms and met the brief of opening and closing of space stylishly and effectively. Due to the size of the openings CS recommended the use of CS NewYorker. The doors not only run smoothly and meet perfectly every time, they are also guaranteed for five years.
The CS NewYorker is a stylish pre-finished door frame that can be glazed using a wide range of materials, glass being the most popular. The perimeter frame has no visible screws or fastenings while horizontal or vertical rails if required have been purpose designed to maintain overall good looks without compromising strength or reliability.
The design used by CS for the project is very versatile. We commonly use corner meeting detail in multi residential and aged care developments. By incorporating an additional door to effectively make a 'T' intersection, it allows maximum flow and versatility between spaces. Add to this the fact the New Yorker door can take a range of fill from 4mm - 12mm (pin board, melteca, punched aluminium, MDF, etc) and you have a real multi-purpose solution.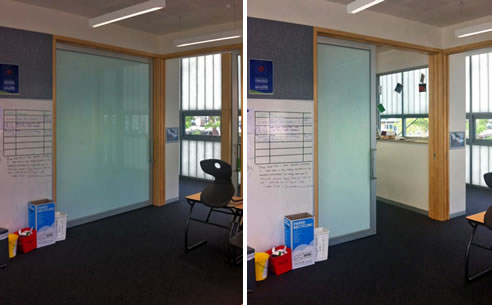 Credits
Architect: Architectus Melbourne
Builder: Melbcon Construction
Contract Cost: $5.5 Million