Hydraulic Rain to Mains Changeover Valve from Maxijet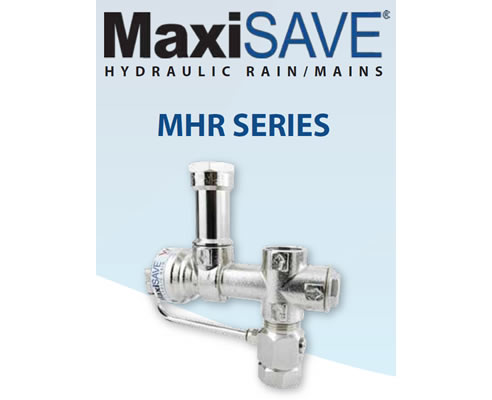 MaxiSAVE - Hydraulic Rain / Mains - MHR Series
The MaxiSAVE MHR25 rain / mains changeover valve allows tank water to be used for water supply in preference to mains water. The MHR25 valve will automatically change to mains water in event of power failure or low tank water level.
RAINWATER IS IDEAL FOR:
Flushing Toilets
Laundry
Garden Watering
Washing Cars
Specifications
Max mains pressure 1050 KPa
Max pump pressure 1050 KPa
Flow rate >200 LPM
Max Water Temperature 50C
Rainwater Inlet 25mm 1" BSP F
Mains Water in 25mm 1" BSP F
Outlets 25mm 1" BSP F
Weight 1.9 kg
Certified to
WaterMark ATS 5200.477 WMK 60075 Complies with AS/NZS 3500.1 when installed by a licensed plumber
Note:
Should the static mains supply be greater than 400 kPa above the supply pressure of the pump the device will not completely isolate mains water.