Rangehood Upgrades from Schweigen Home Appliances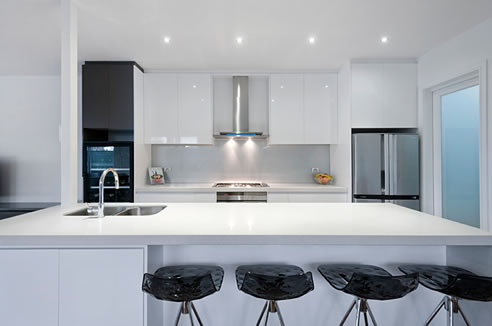 Why You Should Update Your Rangehood.
Most homes have out-dated rangehoods simply because - unless remodeling takes place - the average homeowner does not give a lot of thought to their rangehood. Over time they can become, not only an annoyance from the noise and grease build-up, but can very well be a large fire hazard to the home. The functionality of a rangehood should be one that keeps your kitchen clean, odorless and safe. Because the kitchen has become the most popular "entertaining" room in the home, it should also be odor and noise free.
An aged rangehood may no longer have the motor power to function as it should to pull cooking odors and smoke from the kitchen, which leaves the kitchen with unclean air, and a stale smell. Noise from an older rangehood can be distracting, annoying and embarrassing for the homeowner. Schweigen makes a great line of rangehoods for consideration that are modern, stylish and silent. Any one of these high-performance rangehoods can make a large difference in how you and your guests view your kitchen.
The company's revolutionary silent rangehood concept begins by having the motor removed from the canopy and placing it externally outside your home. This ensures silent extraction inside your kitchen while being able to sport powerful German made motors that can handle any cooking needs. The Schweigen IsoDrive motors are also amongst the most energy efficient in the market, requiring just 62 watts of power to run, compared to the competition which use a minimum of 180 watts!
With sleek designs, packed with features and extreme durability, these products combine the best of European styling and Australian toughness. Silent, powerful, stylish and efficient, they are simply some of the best rangehoods on the market.
Visit one of our many dealers' showrooms today and experience the "Schweigen" difference for yourself, or visit the following link to see what Schweigen has to offer: http://www.schweigen.com.au