Heatray Heated Shade Umbrellas from Celmec International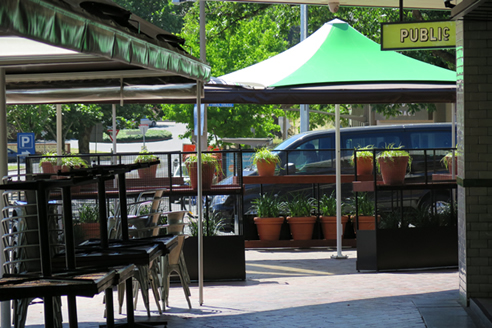 CELMEC'S HEATRAY HEATED SHADE UMBRELLAS PUBLIC BAR, CANBERRA
Public Bar recently completed an upgrade of their outdoor entertaining area. As a part of this upgrade two of Celmec International's existing Heatray Heated Shade Umbrella structures had the skins replaced with custom designed fabric. The client wanted the new umbrella skins to showcase Public Bars existing colour scheme.
One umbrella was fitted with lime green and white panels, the other with a lime green, black and white tartan pattern. The tartan pattern was achieved by screen-printing on the standard white PVC Tensil Fabric, whilst the green and white umbrella was created by welding two green and two white quarter panels together.
The existing weather accessories and three other Heatray Heated Shade Umbrellas remain unchanged (with dark brown PVC Tensil Fabric). As a part of the upgrade Celights were integrated into all of the umbrella structures.
However, as the dark colours of the umbrella skins do not reflect light very well (compared to lighter fabric colours), the Celights were fitted with reflectors to maximize their effectiveness, providing more natural light for patrons below.