High Impact Thermal Traffic Doors for Retail from Premier Doors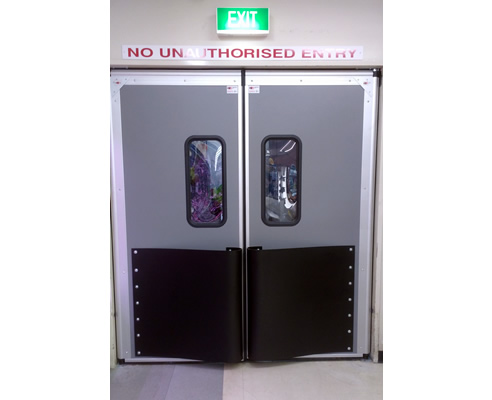 High Impact Traffic Doors for Retail.
PremIMPACT - High Impact Thermal Traffic Doors can be used to separate areas and contain environmental conditions, whilst also providing a barrier to staff only areas. These doors experience high levels of traffic and are durable and capable of withstanding the demands of a high paced retail environment.
Featuring a proprietary ABS type outer skin that is textured for scratch resistance and an insulated core to contain temperature and reduce energy loss, whilst also providing an aesthetic coloured coded finish. The doors contain no timber, and are bacterial and moisture resistant making them ideal for food production area.
Spring buffers, or impact plates to high impact areas also offer extra protection to marking and wear and windows are used for vision and safety. The enclosed spring system provides semi-automatic operation through push to open and automatic close. Fully automated systems are also available with various forms of activation.