Bluestone Cladding Installed with StoneClip from KHD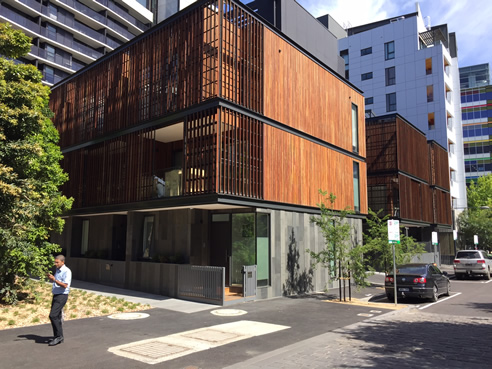 Unique Freehold Residential Development in the heart of Docklands.
Located in the heart of Docklands is the 'The Residences', a boutique, freehold residential development compromising of six luxury terrace homes.
In this project, we love the use of natural materials, such as Bluestone and Timber, which provides not only a great finish but context to its Melbourne surrounds.
Honed Bluestone cladding was installed with Stone Clip on the lower story walls.
The large Bluestone panels of various thicknesses were installed in the vertical plain to express the panel sizes. Stone Clip made it easy to install as the contractor had no down-time waiting for adhesives to set. The weight of each panel is transferred back to the substrate via the Stoneclip. This system ensures no compounding weight transfer between panels.