Drop Arm Awnings from Shadewell Awnings & Blinds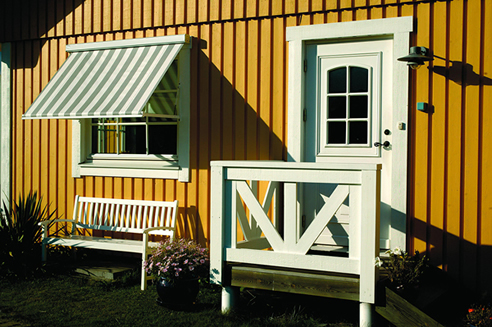 A great way to cover any window large or small, Drop Arm Awnings are a stylish type of outdoor blind suitable for any home. With heavy-duty spring loaded aluminium drop arms and matching front bar, our Drop Arm Awnings are built to stabilise against high winds and are versatile enough to protect you from the overhead sun when partially or fully extended. It also provides protection from the sun at low angles.
Drop Arm Awnings are operated manually with a gear crank handle from outside or motorised. Motorised awnings allow full control over a number of windows with the simple touch of a button.
*FEATURES*
+ Clear anodised aluminium arms and front rail
+ Operation by crank handle and gear mechanism, or automatic
+ Strong spring tensioned arms extending to 1.4 metres
+ colour customisable head box