Contract Commercial Outdoor Furniture on the Gold Coast: A Case Study by Stoddart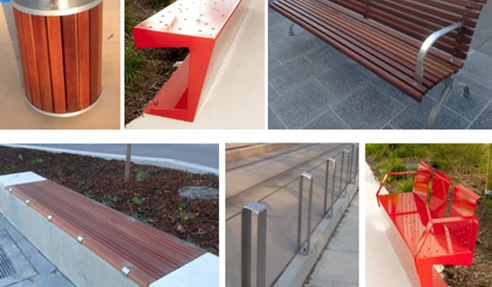 Stoddart is a top provider of custom architectural metalwork, street infrastructure and contract commercial outdoor furniture on the Gold Coast. One of their highest-profile projects in the area is the Gold Coast Light Rail, where the Stoddart team supplied and installed an extensive range of high-grade external elements. Stoddart's Town & Park division were responsible for delivering DDA Compliant City seats, bollards, bins, bike racks and custom furniture elements.
Contract Commercial Outdoor Furniture for Gold Coast Light Rail
Also known as G:link, the Gold Coast Light Rail is a revolutionary tram service that launched operations on July 20, 2014. The light rail system accommodates a daily ridership of 21,000 commuters, which is well over the predicted figure of 16,000 expected after two years in service. In reaching this milestone, the Gold Coast Light Rail relied on highly equipped personnel, operational systems, and quality construction throughout its facilities.
Stoddart is proud to be one of the select companies behind the $120M construction project for the Gold Coast Light Rail. Elite construction company McConnell Dowell awarded the contract to Stoddart's Architectural, Infrastructure and Town & Park divisions. The project is distinguished as the biggest single delivery project in Town & Park history, whereby Stoddart supplied more than 100 seats in a period of 2-3 months.
Stoddart offered City Style steel safety bollards from the best-selling Town & Park range. Amongst the the array of Stoddart contract commercial outdoor furniture specified for the Gold Coast Light Rail project, is the Town & Park B10 bollard.