Custom-Made Stainless Steel Posts from Miami Stainless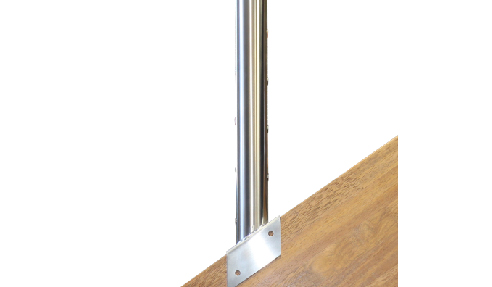 Did you know that Miami Stainless has a full in-house fabrication department that can custom make stainless steel posts to suit your job?
Recently we had some creative customer designs for timber staircases. These two unique projects had custom posts made to fix to timber stringers.
Side Mounted Post
The first of these projects, the customer wanted the stainless steel flat bar intermediate posts to sit in the middle of the timber handrail. This way achieved by side mounting the post to the stringer using a 37mm right angle offset.
Saddle Mounted Posts
The other interesting custom post project was this saddle mounted post design. The customer wanted to be able to attach a stainless steel round post to the top of a timber stringer. We achieved this by custom making a saddle to side over the stringer and cutting the round posts on the stair pitch and welding it together. The post and saddle were able to be bolted through from both sides, achieving a strong fixing.
If you would like to know more about our in-house fabrication and how we can help you with your next custom project, please visit www.miamistainless.com.au.
We can also assist with custom handrail post fabrication, see our article on a custom vertical balustrade here.