Protect Your Floor During Construction with Renaissance Parquet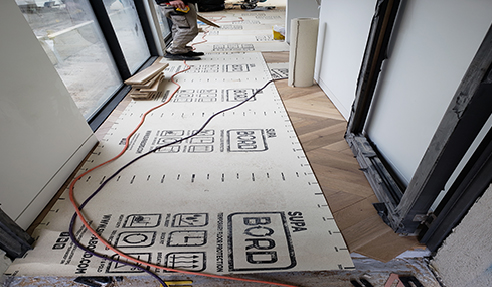 Ensure your flooring is protected with SupaBord during construction or remodelling projects.
Whether you are working on a residential renovation, painting, construction or a large-scale industrial project, floor and surface protection is a must have for any construction job in order to reduce the risk of damage or the soiling of surfaces.
Without the adequate protection, floors end up being scratched or dented from works or traffic, costing the builder or homeowner the repair. Clients are not happy receiving damaged flooring at handover when a little bit of care would have made a world of difference.
That's why you need to consider the right temporary floor protection products!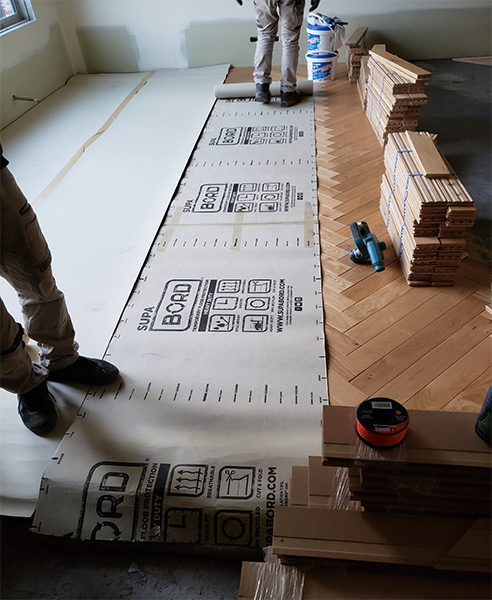 Australian Builders and flooring contractors prefer Supabord Floor protection.
SupaBord has incorporated the latest technology in floor protection, providing a balance of vapour permeability, durability, strength and safe workplace conditions in its product features.
Spill Resist
Health and safety is critical on building sites. SupaBord is a safe, non-slip durable working surface. It contains a unique 60-hour spill resist technology that repels liquid spillage. SupaBord is safe to walk on, even when wet, reducing the risk of accidents in the workplace.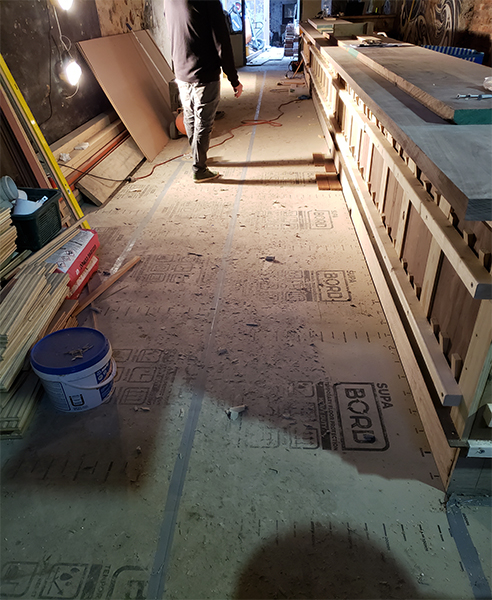 Quick Fit
Preventing damage to work sites can be costly wasting time and money. An exclusive feature only available in SupaBord is the integrated horizontal and vertical measurement system, which eliminates the guesswork when installing temporary floor protection.
Making installation easy, SupaBord can be accurately cut and folded on site with minimal handling and waste, a feature not available in any other temporary floor protection on the market. Another added measurement feature is the SupaBord logo that is spaced exactly 1 meter apart, allowing for quick fitting.
Breathable
The breathable design of SupaBord allows vapour and moisture to evaporate. It allows natural curing of your floor whilst protected from damage and spills.
Heavy Duty
SupaBord is the toughest surface protection on the market at around 1 mm thickness. It is flexible yet durable, handling most construction traffic to prevent damage.
100% Recycled
Made from 100% recycled material, SupaBord is a mixture of recycled paper products including paper waste; ply paper fibre and polymer additives. SupaBord turns unwanted industrial waste into a usable and practical product, preventing damage in commercial, residential construction and renovation projects.
Developed to withstand the demands of the construction industry our product is made from recycled paper, water resistant and fully breathable. It can be used over almost all surfaces and has a unique joint tape to seal joints, and is available for immediate delivery Australia wide to all HTH/M10, HBT and Independent hardware stores.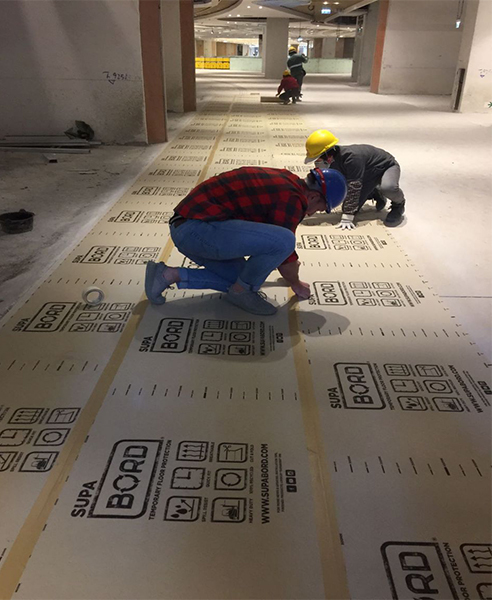 It is worth taking the time to budget for floor protection as part of your overall project costs. Ensuring your flooring is protected with SupaBord during builds is vital and can prevent missed deadlines, over-spend on budgets and potential headaches.

For more information, visit www.supabord.com.