Mailsafe Mailboxes is pleased to announce the launch of the new Mailsafe Mailboxes website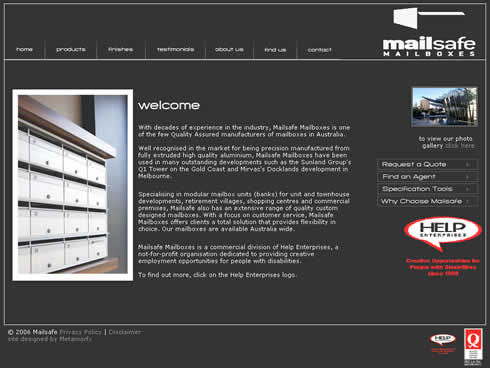 The new site is to be found under the address www.mailsafe.com.au.
The site has been completely revamped and now includes many new photos of mailboxes and letterboxes from our product range. The new site is much easier to use and considerably more informative.
As part of the continuous improvement process, Mailsafe Mailboxes is pleased to make 2 further announcements. The first is an extension of the warranty on Mailsafe Mailboxes to ten (10) years from the date of completion against faulty workmanship. The second is the introduction of an "anti-graffiti" powdercoat paint capability. Please check the new website for more details.
Architects and Builders should specify Mailsafe Mailboxes for all projects because -
It is a market-leading mailbox from a Quality Endorsed ISO9001:2000 company.
It is an Australian-made mailbox.
The organisation has been in business since 1968.
There is a 10 year warranty against faulty workmanship.
There is a free advisory service to ensure the specifications for your mailboxes meet all your requirements.
All purchases assist people with disabilities to retain their economic independence.
Mailsafe Mailboxes is a Quality Assured commercial division of Help Enterprises, a community based, not-for-profit organisation that has been providing assistance, support and creative employment opportunities for people with disabilities since 1968.