Patent Products - Makers of 100% Australian made quality grates!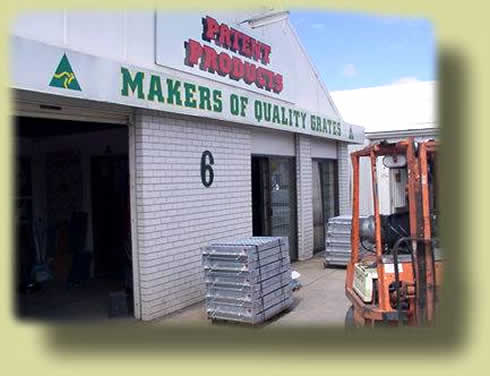 The Richards Family who own Patent Products are no strangers to manufacturing. In 1926 their engineer grandfather started an engineering company B.C Richards & Co Pty Ltd in Brisbane which development into valve manufacturing, supplying oil refineries and the pipeline gas industry. The company created such interest it was acquired by international interests in the sixties.
Patent Products established in 1970, was the first company to initiate the concept of the concrete channel drain and galvanised steel grate combination. Through constant research the design has been updated and improved. The product today is very popular for it's strength and reliability.
Other specialized concrete products include distribution sumps with integral cast in galvanised angle framing to house a grate or cover. These sumps have generous knockout options and are made in a variety of sizes. The product has won strong support for innovations and quality.
Patent Products uses 100% Australian material and labour in its Brisbane factory. The company manufactures a large range of steel galvanised gratings for councils, local government departments, industrial and domestic areas, and specialized non slip safe grating for pedestrian traffic.
Our company was the first to obtain certified product licence for its bicycle safe galvanised road gully grates and frames, manufactured to AS 3996-92,embracing all three requirements of the standard; wheel loading, bicycle safety and self locking device when the grate is moved into the open position.
Patent Products design created the style of the Gully Grates which we see on our streets today.