Birrus entrance matting systems for high traffic areas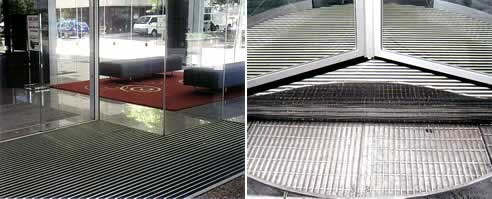 Duramat
Birrus Duramat (rubber inserts) is highly effective for extra heavy traffic areas.
The ribbed rubber scraping bards set between aluminium treads ensure maximum durability, ideal for wheeled traffic at airports, shopping / distribution centre's, sporting and educational facilities.
Duragrit
Birrus Duragrit (abrasive grit inserts) is a hard wearing non-slip tread insert developed for internal and external environments where floor surfaces may otherwise prove hazardous. This unique product provides safe footing in high traffic areas exposed to water or slippery conditions, especially ramped walkways.
Another well proven design layout is to install Dual Treads (that is 2 x 50mm wide increments) alternately set into concrete, tiles or timber across ramps and walkways, to create a safe non-slip surface.
Duraglo
Birrus Duraglo (photoluminescent insert) is designed to illuminate the entry / exit points in total darkness. Efficiency is held between 2 - 4 hours and re-energised by natural or artificial light. Twin photoluminescent strips are imbedded into rubber rubber treads. This insert can be incorporated into any of the closed construction products, including stair nosing sand the Dual Tread layout.
Cocamat
Birrus Cocamat (coir inserts) offers efficient cleaning action due to the stepped profile. Coir fibres stand 10mm above the aluminium treads penetrating the crevices of shoe soles, removing the loose dirt and moisture.
Consideration should be given to the overall height of Cocamat to ensure hinged doors have sufficient clearance.