Insitu concrete from Poly-Tech Industrial Services features at Hotel Adelaide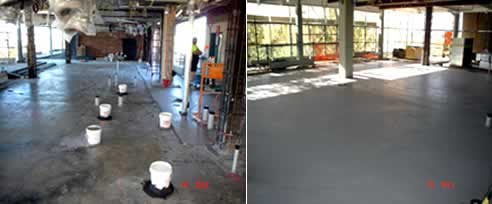 The redevelopment of the former Hotel Adelaide required Baulderstone Hornibrook to coordinate many significant trades to restore the buildings shell into the city's most luxurious and exclusive apartments.
Each floor of the building was subjected to various incorrect levels which needed the assistance of a skilful contractor such as Poly-Tech to coordinate, set out and apply a self leveling, cementicious, non structural overlay to the insitu concrete.
The cost effective answer for this project was a light weight, floor leveling compound. This was deemed as the ideal solution as opposed to the much heavier, concrete topping alternative.
Poly-Tech successfully coordinated this multi staged installation which resulted in the pumping of over 3000 bags of leveling compound to seven floor levels.
Upon the contracts completion, the newly leveled floor provided the client with a suitable substrate at the required levels to enable installation of the various top end floor finishes.
Another satisfied Poly-Tech customer.