Poly-Tech epoxy flooring features at National Jet Systems, Australia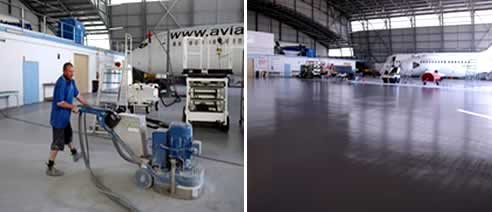 National Jet Systems, Australia's leading air charter, freight and surveillance provider undertook a major facilities upgrade in Adelaide and Brisbane in 2004. This included the hangar's that house their prized fleet of aircraft's.
Aviation oils and fluids, particularly skydrol, can quickly deteriorate an un protected concrete surface, hence Poly-Tech was engaged to ensure that National Jets hangar floors would be suitably looked after.
Following extensive testing undertaken by Poly-Tech it was deemed that dustless diamond grinding preparation and the application of a roller applied high build chemical resistant epoxy coating would provide the best solution in protecting the hangar floors.
Both hangars of 3500m2 each were prepared and completed to schedule, including the Adelaide site which was still under use by National Jet during renovations. Poly-Tech successfully coordinated the works both in and out of normal hours to ensure minimal disruption occurred.
Furthermore, Poly-Tech appreciated the secure nature of the site and its client's joint position on OH & S thus ensuring an enjoyable and harmonious relationship developed.
This mutual respect and the success of these two projects have led to Poly-Tech being selected to continue with additional works with National Jet Systems.
Another satisfied Poly Tech customer.