Tactile Systems Melbourne by Guardian from Birrus Matting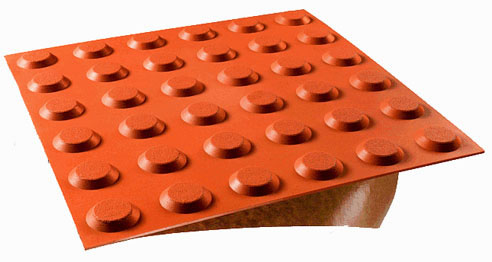 Guardian Tactiles are a unique system of vandal proof tactile ground surface indicators that fully comply with the Australian Standards AS/NZS 1428.4:2002. Simple, rapid and cost effective installation with minimal disruption makes them the ideal solution for retro fitting in all situations, consequently aiding the mobility skills, orientation and the safety of the vision impaired and blind.
Manufactured in Australia using state-of-the-art materials the patent pending*, modular installation system allows them to be keyed in to, and permanently adhered to, any substrate - concrete, brick paving or bitumen with our proprietary water proof adhesive. This unique system is guaranteed to prevent any form of vandalism occurring, complying fully with the standards directive that there is no likelihood of the edges ever lifting.
The Guardian Tactiles are manufactured from a robust, durable, UV stabilised, slip resistant acrylic that is ideal for Australia's harsh conditions. They have a degree of flexibility that takes surface irregularities and minor variations in gradient into account. Unlike concrete, rubber or cast cement indicators the Guardian Tactile will not wear away, peel, chip, crack or fade and are fully guaranteed for ten years. The modular system allows all possible configurations to be keyed in with the single tile, corner, side, end and plain pieces.
They are supplied in standard colour range of Charcoal, Ivory, Terracotta, Safety Yellow.
For quantities over 300 tiles they can be coloured to any hue at any saturation to comply with the minimum luminance contrast of 30% enabling the vision impaired to detect the indicators. The capacity to produce the tactiles in any fade-proof colour allows the aesthetic considerations of the neighbourhood, the buildings and the existing paving to be taken into account.
The installation process has been designed to be as rapid and efficient as possible with minimal disruption to traffic - the tiles can be walked on immediately after installation.
The Guardian Tactiles System can be supplied in kit form with full installation instructions and a 1800 help line, or we can supply a fully trained team of tradesmen who can travel anywhere in Australia.
Worn and unsightly concrete indicators can easily be replaced with Guardian Tactiles without major effort and expense. Simply grind off the old indicator 'bumps' flush with the ground and fit the Guardian Tactiles over the top.
The new Australian standards will require the extensive use of tactiles in a wide range of areas, some of which are listed below:
bus stops;
car park crossings;
kerbs, step and intersection pram ramps;
overhead hazards below 2000mm;
alfresco dining areas
stairways, escalators and ramps;
railway platforms;
passenger wharves;
hazards within a circulation space or adjacent to a path of travel
changes of direction.
The Guardian Tactile System offers you a unique opportunity for long term savings with a guaranteed, long life and rapid installation solution.
* Provisional Patent applied for. Registered Design applied for.