Sandstone Landscaping Supplies by KHD Landscape Engineering Solutions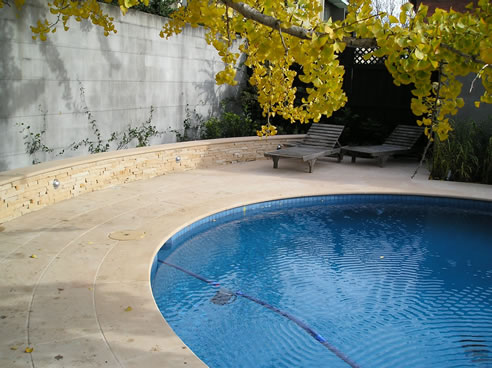 A Pool project in Prahran
An existing pool combined with recent modern renovations on a small block made this project a real challenge for landscape architect John Patrick.
The dated circular pool positioned on a small block over two levels, combined with a modern extension, called for some creativity in transforming this drab garden into a masterpiece.
KHD supplied Dunkeld sandstone which was specified and used throughout for its durability and soft colour tones. Also, three courses of curved stone were laid to the pool edge highlighting the circular shape.
A sandstone book leaf wall was constructed to retain the adjacent garden and capped with sandstone bullnose for additional seating.
The work was carried out by Julian McCarthy and his team to exacting standards resulting in this fabulous garden.