R11 Certified Slip Resistant Eco Flooring from Sherwood Enterprises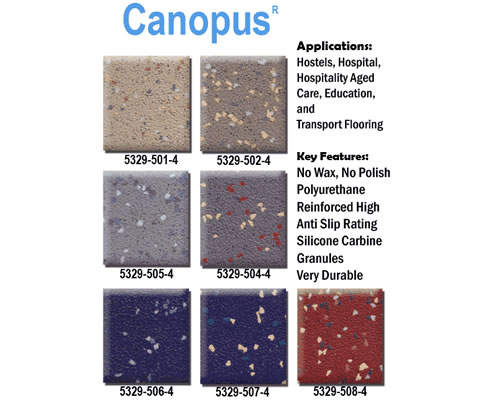 ECO- FRIENDLY CANOPUS CROMPTON R11 SLIP NOW IN AUSTRALIA
100% RECYCLABLE & SUSTAINABLE
Sherwood Enterprises is delighted to advise the Responsive Homogeneous Canopus Safety Vinyl ranges has increased in selection and as Healthcare Facilities have requested in recent times we have pleasure to provide Canopus Crompton an R11 the latest Safety Vinyl range that's also polyurethane reinforced PUR for ease of maintenance and setting new standards of Durability, Cleanliness & Hygiene.
Responsive have also increased the colours in the Canopus Plus Uni R10 Range introducing to the range Black, Char Grey, Sand, Yellow, Red Terracotta, Silver, Mid Green, Navy, Beige, Mid Blue and in various safety profiles.
So now you have a CHOICE in Safety Vinyl Flooring at an Eco Friendly PRICING.
CANOPUS CROMPTON R11 CERTIFIED SLIP RESISTANCE
Responsive designers have questioned 'Why' safe needs to be the same as boring, so in the new Canopus Crompton R11 range cheery confetti patterns invigorate the understated pastel backgrounds - BRINGING SAFETY ALIVE WITH R11 SLIP
Canopus Crompton is polyurethane reinforced PUR throughout the product not just the wearlayer providing minimum maintenance and harsh chemicals to maintain the floor are not required as Responsive's new 'Green' Regime/System applies.
As requested by our Healthcare clientele Canopus Crompton is Homogeneous in construction NOT Heterogeneous and available in colors like Marine blue,Sandstorm, Nougat white, Mist grey and Sky blue and complimented with Responsive 2 meter wide Homogeneous Wall Vinyl called CAPILLA providing a water tight Wet Room hygienic Floor & Wall System.
Canopus Crompton is construction with silicone carbine particles and a mini stud to obtain that extra grip and sureness of movement and importantly the Canopus Crompton range is 100% Recyclable and Sustainable.
Responsive is Leed Rated and certified Environment En 14001 and ISO 9001 and Responsive is a member of the Green Building Council US.
When it comes to PRICE the Canopus Safety Ranges doesn't cost the world as some safety flooring ranges and Sherwood Enterprises market & stock the ranges at a very competitive Cost Effective price and can arrange installation from a net work of approved Australian Flooring Contractors.
So for Hospitals, Aged Care, Hostels, Nursing Homes, Schools, Child Care, Retail Stores, Transit Terminals & Fitness Centres and Marine usage and most indoor heavy duty environments slipping is now a thing of the past with the R11 Canopus Crompton Safety Range which is 2 meters wide & 2mm or 3mm thick.
Contact Us today.