Custom Garage Door and Panels Bushland Vista from Axolotl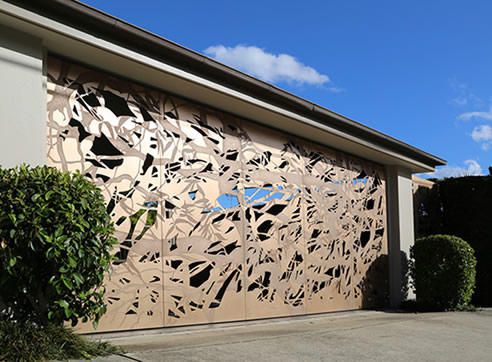 Axolotl Projects: Bushland Vista
A humble garage door and entry to a home located on Sydney Harbour have just been given a huge makeover thanks to the talents of Peter Campbell of Campbell Barnett, Graham Day Garage Doors and Axolotl. The adventurous clients wanted to capitalise on the stunning harbour views beyond the garage property, as well as deviate from the traditional idea of a garage.
In response, Peter devised a contemporary and multi-layered bushland image taken from trees on the property. The concept was enabled by the availability of Axolotl's unique processes and materials. First, the panels were precision cut to the design that allowed maximum visibility through, whilst concealing the customised frame. They were then applied with several layers of Axolotl Bronze in smooth, light and cast textures, to illustrate the layers of the contemporary bushland graphic.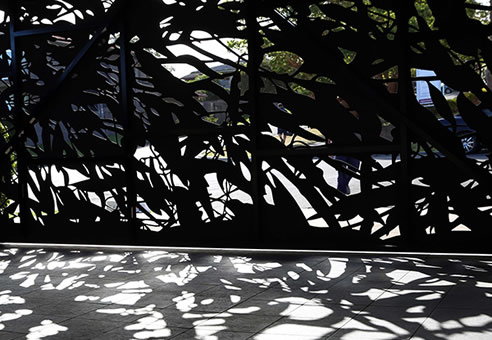 As possible as it was, it wouldn't be true to say it was a simple project as it spanned over a year and involved in depth design discussions and meticulous planning. The efforts of the team did not go unrewarded however, as the result is an awe inspiring, captivating entry for this stunning home.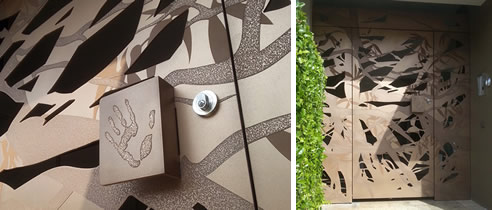 Grand Designs
Axolotl are very excited to be showcased on the next episode of Grand Designs Australia. The film crew came through earlier on this year to shoot the development of an outstanding entrance, that drove innovation in manufacturing as well as design. Grand Designs Australia episode 6 - "Forest Lodge Eco House", premiering tonight on Foxtel's Lifestyle Channel at 8.30PM.
Axolotl House + Anomaly
We have had a huge response so far for Anomaly, the pop up showroom is still open on the corner of Oxford and Palmer streets but won't be for long so be sure to head along to check out the range. We have also just updated the photo gallery's for Axolotl House thanks to the talents of Mark Donaldson of MDP, with more great shots still to come.