Largest Tilt-Up Insulated Panels in Australia from Composite Global

All tilt-up panels have now been erected at Mainfreight's new 5.5 hectare Transport and Logistics supersite in Larapinta, Queensland - and Composite Global Solutions is proud to announce that they are the largest tilt-up Thermomass panels ever made in Australia!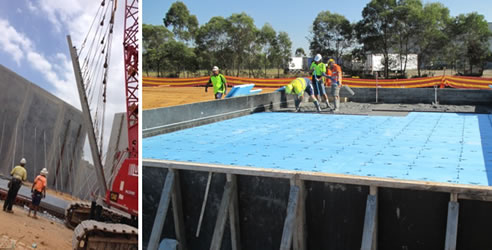 With the largest section at almost 12m x 7.5m, and weighing in at around 47 tonnes, these sandwich tilt-up panels are huge. Expertly crafted by CJB Panels who, undeterred by the size and scope of the challenge managed to value-engineer the panel specifications to ensure maximum design efficiency, each of the massive tilt-up slabs utilises the THERMOMASS concrete sandwich panel insulation system for superior thermal envelope performance.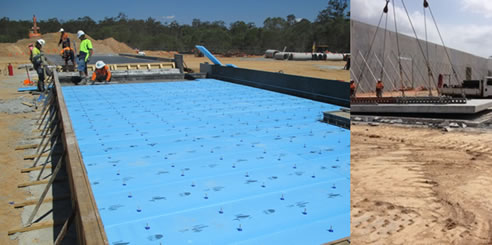 With nearly 4000m2 of THERMOMASS rigid insulation being put to use, Mainfreight have made the smart decision in ensuring the thermal envelope of their structure is of the highest quality.
Beside the immediately apparent benefits of reduced energy consumption and significantly more stable diurnal swings, constructing a distribution center out of precast concrete panels has other significant advantages. Concrete is durable, concrete is secure, and concrete is fast to construct and erect. When you combine this with the insulative effects of Thermomass rigid insulation, you have an industrial facility that is longer lasting and more secure than typical sheet metal clad structures, that will maintain it's internal storage temperatures at required levels with decreased cooling requirements.
If you're interested in learning how THERMOMASS can help your latest commercial or residential project achieve a thermally stable environment with significantly reduced running costs, click the link below to visit our website and learn more.