PCA Fibre Technology from Colan Products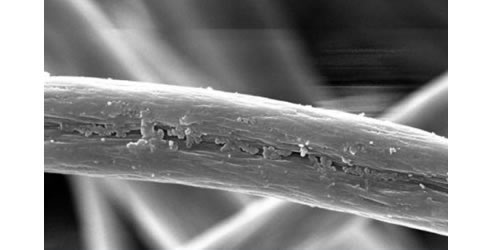 THE NEW TECHNOLOGY
PCA Fibre is a new, innovative technical textile. The fibre is a synthetic polyacrylate with exceptional high temperature resistance. This unique fibre is able to combine comfort with high performance. With its precious moisture measurement and natural soft touch, PCA fibre preserves the comfort in quality products that are required to comply with FR standards. The exceptional inherent fire protective characteristics together with the low toxicity and opacity of smokes allow meeting the most stringent standards both in terms of fire and smokes.
BLENDABILITY & QUALITY
PCA Fibre can be easily blended with other commodity and technical fibres to enhance fire and smoke performances resulting in cost effective products where PCA Fibre's added values such as antimicrobial properties, moisture management, insulating effect etc. assure a high quality of the final products.
Key performances:
Low toxicity of gases and opacity of smokes
High LOI values
Excellent Heat dimensional stability
Low thermal conductivity
Excellent Moisture Management
Soft Hand Touch
Good Chemical resistance
High UV resistance
Inherent Antimicrobial properties
Markets:
Transport industry
Hot-Gas Filtration
Protective Garments
Thermal Apparel
Sportswear
Bedding furniture
Home furnishing
Insulation for buildings

PCA Fibre uniquely combines its low smokes emissions with heat dimensional stability for high performances in closed places such as buildings and transport vehicles were gases and visibility inhibit the escape.
PCA Fibre fire-blocking barriers are classed F1 and compound fabrics including PCA Fibre can reach the classification F2 according to NF F 16-101.
The very low heat release values and the excellent fire resistant characteristics guarantee the compliance to the most stringent standards for the rail industry.
The good levels of moisture regain and MVTR permits a moisture management action that helps in preventing heat strokes.
One of the lowest value of thermal conductivity is the base for a high level of TTP (Thermal Protective Performance) PCA Fibre intimate blends enhance comfort keeping high protection performances with light-weight fabrics.
Anti-microbial inherent properties favour an anti-odour effect.
It does not burn, melt, shrink... it just gradually chars.
HOT-GAS FILTRATION
PCA Fibre shows superior features that make it suitable for most of the industrial hot-gas filtration processes.
Temperature and chemical resistance play a major role in this field, and PCA Fibre with its inherent special properties withstands to the most stringent requirements.
PCA Fibre TGA data confirms a good behaviour of resistance to heat and to oxidizing agents indicating the suitable operating temperature around 200°C.
HIGH OPERATING TEMPERATURE
The good chemical resistance and heat resistance together with excellent behaviour to flame exposure means no formation of pinhole caused by sparks.
This results in extended lifetime of the filter media.
EXTENDED LIFETIME OF FILTER BAGS
The highly porous surface of the fibre allows a superior filtration efficiency of fine dusts and also a lower pressure drop thanks to a higher airflow through the filter bags.
LOWER OPERATING COSTS
OPERATING TEMPERATURE 200°c +
GOOD CHEMICAL RESISTANCE
GOOD RESISTANCE TO OXIDIZING AGENTS
ANTI SPARK PROTECTION
LOW PRESSURE DROP
HIGH FILTRATION EFFICIENCY
HIGH HEAT DIMENSIONAL STABILITY