Brackets for Coach Screws from East Coast Industries Australia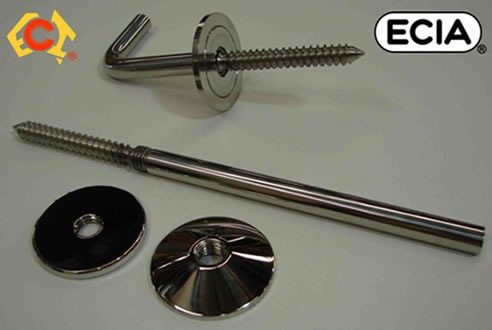 ECIA Coach Screw Brackets
ECIA is an experienced supplier to the building industry that can provide added design and manufacturing support to its customers.
ECIA has released a new coach screw brackets ideal for fixing your handrail to timber supports. Sizes will include a standard 80mm offset or the option for bending to your specific size to match your requirements.
A variety of M12 by 50mm diameter Wall Plates are in stock to provide a clean finish and can easily be screwed on by hand with no welding required.
Our products are manufactured through strict quality control procedures from high quality stainless steel all for competitive wholesale prices.
ECIA is not limited to off the shelf products, we also provide quick design support and manufacturing of custom products to our customer's specifications be it aluminium, steel or plastic, we have plenty of different materials that can be factory-made to fit your special requirements.
ECIA has many more components for fixing hand railings and if required we may also customize it to fit your specifications.
Please visit our web site at www.ecia.com.au for a copy of our latest catalogue and for more product information.