Hunt Heating Opens Trade Counter in Keysborough Victoria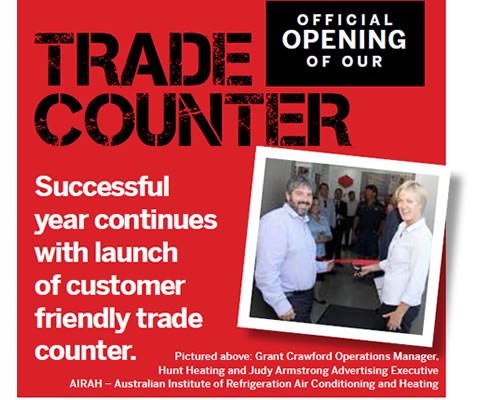 Our successful year has continued with the opening of a customer-friendly trade counter at our base in Keysborough, Victoria.
The new facility is providing buyers with an additional source of access to our high-quality European products, which include radiators, underfloor heating and cooling systems, pipes, fittings and valves.
The trade counter is open between 7.00 am and 4.30 pm, Monday to Friday, It has been officially launched at an event including a barbeque and refreshments, product demonstrations and a prize raffle, attended by over 50 people.
Paul Linley, Hunt Heating general manager, said: "We're delighted to have launched the trade counter and are confident it will be welcomed by our actual and potential customers, particularly the many based within easy traveling distance of our headquarters."
"The trade counter's opening is the latest milestone in what's already proving a hugely exciting 2013 for us. It follows last month's launch of our designer radiator range, which has been very well-received by customers, following our dispatch of more than 3,000 catalogues itemising these products to trade, architects, developers and consultants, plus retail and showroom outlets."
Mr Linley said key developments planned by the company for later in 2013 included launching a range of multi-zone systems units.