Recycled Black Rubber Gym Tiles from Sherwood Enterprises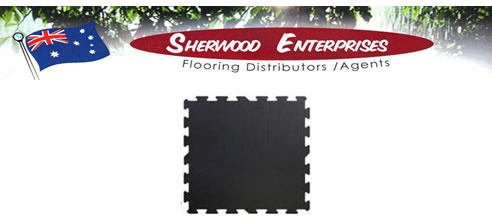 DIRECT TO YOU AT INTERNET DISCOUNT PRICING:
We are delighted to introduce Sherprise Interlocking 100% recycled rubber plain black Gym Tiles which are in stock from November 2013 in a convenient transportable easy to handle 495 x495 x10mm thick size just unpack interlock and you have your rubber workout floor, anti-fatigue floor ready to go. Manufactured to ISO 9001 quality standard plus importantly our gym tiles are renowned for having NO solvent or carcinogenic content being MDI polymerically bound with low emission polyurethane plus AS 9239-1 Fire Certification.
Eco-friendly derived from post waste car tyres and importantly can be recycled again & again.
We also stock & market our traditional well known meter x meter Gym Tiles with the feature benefits above & to which we have sold thousands upon thousands throughout Australia over the years.

PLEASE NOTE: Importantly for Corp Gym Fitness & CrossFit businesses ensure your recycled rubber gym tiles you purchase that the tiles are MDI bound tiles with no solvent content plus not steamed pressed finish and certified under Australian Fire 9239-1 certification & indeed Duty of Care standards with low VOC emissions. Yes! - For just a few dollars more than the lower priced Gym Tiles due to our Bulk purchasing & high turnover you can purchase in confidence Sherprise Gym Tiles knowing our products meet these standards and are purpose built in the state-of-the-art rubber recycling facility to Sherprise specification.
Advantages Feature Benefits
Anti-fatigue properties, Impact Protection, Durability - Flexibility, Sub floor protection, Reduction in Noise Vibration Sound, Safe Stable Exercise Platform, Coefficient of friction plus an aesthetically pleasing visual:

CONTACT DETAILS