SOLIS EnviroWeave Sunscreen Roller Blinds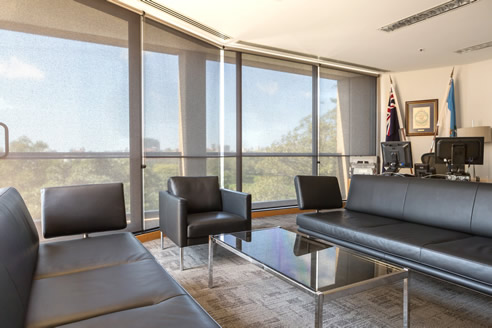 PARLIAMENT HOUSE - Project Showcase by SOLIS
PARLIAMENT HOUSE I 650 Solis roller blinds I Trevira-CS (PVC free)
This project at Macquarie Street Sydney involved the supply and installation of 650 SOLIS spring assisted Roller blinds using EnviroWeave Sunscreen Alu fabric, Colour - Icon.
EnviroWeave Sunscreen is a Trevira-CS (PVC free) window shading fabric allowing natural control of light, heat and glare, with a view.
Meticulously tested to meet international standards for green and fire retardant fabrics, EnviroWeave Sunscreen is energy efficient and cuts down on greenhouse emissions.
This European designed and manufactured range performs beautifully in both home and office spaces and is guaranteed for 5 years. EnviroWeave Sunscreen is available in 18 colours, 9 of which are metallised (Alu).
With our extensive experience as one of Australia's largest window furnishing suppliers we can assist you on getting the right product, with guidance on system and fabric specification on your next project.