New PERSPEX Sweet Sensation of Pastels Range by Allplastics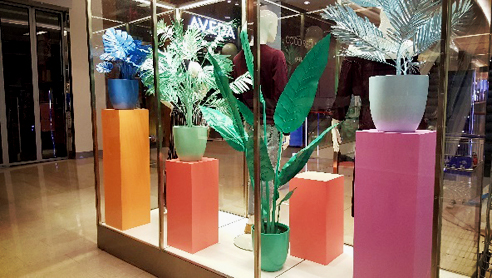 The New Sweet Pastels range from PERSPEX has created a considerable amount of interest from designers looking for bright yet soft colours in retail, childcare centres, point of sale and the hospitality sector.
Recently Allplastics fabricated a range of PERSPEX Plinths constructed from Orange Fizz, Raspberry Sherbet and Sour grape sweet pastel colours for the Westfield Shopping Centre in Bondi. Designed by Kandace Wood of Design house_of_kw, the pinths attracted many positive comments from both the shop owners and shoppers.
The Pastels are available in Orange Frizz, Bubblegum Blue, Sour Grape, Candy Floss Blue, Lemon Bonbon, Parma Violet, Spearmint Green, Raspberry Sherbet colours and are two sided. One side is gloss and the other surface is matt. This allows the designer to adapt the fabricated display to suit the specific outcome required from the client.
Features
8 Delicious colours 3mm Thick x 3050mm x 2030mm.
Unique gloss and satin finish combination in one sheet.
Frosted anti-finger mark surface on one side.
Ultra-high gloss surface on other side.
Easy to shape, form and fabricate.
Retains frosted texture through thermoforming.
Hygienic - PERSPEX® is compliant with EU food contact regulations.
100% recyclable.