Steel Rectangular Panel Tanks from Hunt Engineering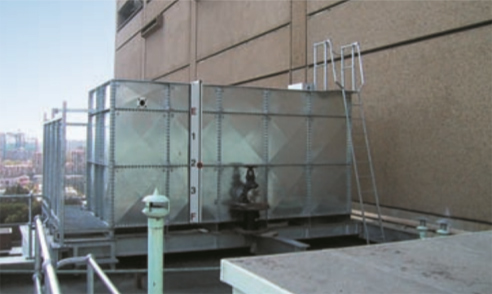 Hunt Engineering supplies the RP-Galv "RP" Rectangle Panel Tanks. They are designed to have a construction method which has the flexibility to meet all customer applications.
"RP" Tank final sizing and dimensions can be designed to fit into any difficult application or can be manufactured to replace existing tanks in tight locations that are no longer easily accessible. Tank panels externally bolted with M10 high tensile nuts and bolts.
Internally bolted design options are also available.
Sealing gaskets are high density PVC 6mm thick and compressible to minimum 50%.
Sealant is high grade Polymer sealant approved for use in potable water.
The roof sheeting is Lysaght/Dualclad Zincalume or similar approved and sealed at the edges to provide proofing against vermin.
Internally the tank will be complete with galvanised bracing rods and cleats to size as directed by our engineer. (to suit dimensions/height of the tank).
All walls will be erected in straight lines. All vertical edges will be true to vertical and braced.