Commercial Permeable Paving Works of Art from MPS Paving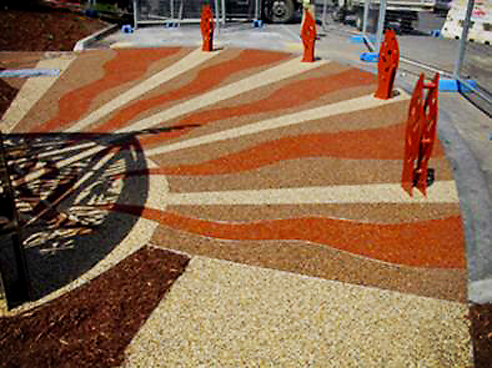 Permeable paving surfaces enable water to pass through the paving materials. They prevent the build-up of puddles or, in cool climates, ice patches that can be hazardous to pedestrian or motor traffic. They also reduce water run-off, ultimately lessening the burden of water flowing through antiquated stormwater systems. MPS Permeable Paving systems are also friendlier to the environment. They allow water and air to reach trees and plants that form part of a paved project, and allow pollutants to settle in the soil or surface beneath the paved area, rather than being carried away by run-off.
Rockpave uses natural stones and the vivid colours of recycled glass. The stone and glass choices available reflect the natural beauty and warmth of the Australian landscape. Rockpave can create virtually any external design for paved surfaces; including custom logo designs, artistic concepts, traffic management solutions, architectural hardscapes, interior flooring and so much more.
Unlike other resin-bound systems in the market, Rockpave Resin has been engineered to withstand the hot Australian sun as well as the cold temperatures of winter. It is UV stable, flexible and has excellent adhesion properties. It can be installed over crushed rock, asphalt or concrete surfaces.
MPS Paving Systems offers numerous permeable paving solutions, including FlowStone™, a specifically sized aggregate that results in a paving system that is fantastically permeable; and SuperStone™, a bold stone finish for exterior concrete that is ideal for pedestrian paths, driveways, carparks, courtyards and entrance ways. Rockpave is permeable paving brought to life with incredible colour combinations.
For more information visit MPS at www.mpspaving.com.au.