Colourful Concrete Coating for Schools from MPS Paving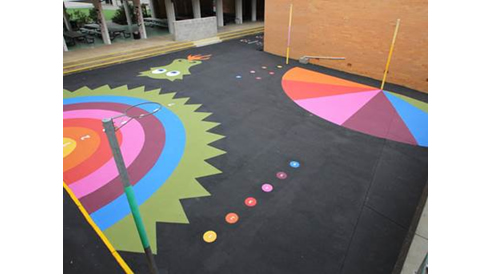 Schools Love StreetBond™ Colour
Unique to the Australian market, StreetBond™ coatings are based on leading edge polymer, cement and epoxy technologies designed to withstand a variety of weather and traffic conditions. Unlike other solvent-based pavement markings, StreetBond™ coatings are water-based. This means they contain no harsh chemical solvents to harm the environment or people. Asphalt coated with StreetBond™ is fully recyclable.
StreetBond™ creates a highly visual play and exercise surface especially designed for school asphalt and concrete areas. It meets Australian Slip and Skid Ratings which makes it safe for play on wet days. The proven durability of StreetBond™ also makes it easy to maintain and repair. Using MPS Paving Systems' unique StreetBond™ coatings, changing a boring space into a decorative masterpiece becomes child's play. Students will enjoy hours of fun.
The combination of an advanced coating system and architectural designs are achieved by MPS using clever installation techniques and custom colour matching. They have an extensive range of products that provide coating and painting solutions for all types of sports and play surfaces that will enhance both their durability and their aesthetic appeal. Schools no longer should be a dull, concrete or asphalt jungles you can create colour and fun!
For more information visit MPS at www.mpspaving.com.au