Waterproofing Basement Secant Pile Walls from Neoferma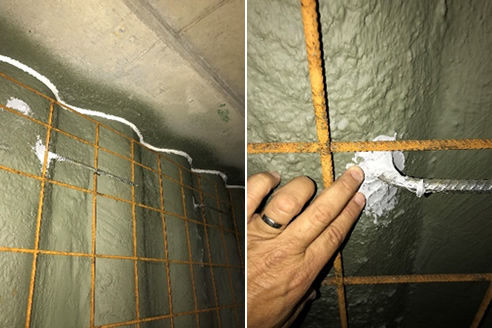 BASEMENT WATERPROOFING DILEMMA
Neoferma Australia provide specialist products to solve problems but they are most effective when installed by a knowledgeable waterproofing company.
In this instance Ron Hudd Building Services, arguably the most experienced waterproofing in Queensland teamed up with Neoferma's Technical Consultant Bob Anley to provide the product and design solution.
THE PROJECT
A major Australian building company is constructing a large high rise residential project in a riverside city suburb of Brisbane. The design called for a three level car parking basement under the water table constructed using the secant pile basement wall system.
THE PROBLEM
The secant walls exhibited a number of problems to overcome in order to achieve a fully dry and waterproof basement, as required by the builder.
The gaps between the piles varied in width and often leaked, ingresses from above only served to exacerbate the problem.