Stainless Steel Urinals by Stoddart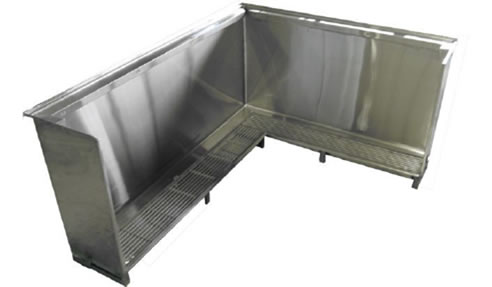 Stoddart is one of Australia's leading manufacturers and distributors of stainless steel and metal products, and specialise in plumbing fixtures such as urinals and sinks. Offering commercial grade stainless steel grated urinals designed to be vandalism-resistant and easy to maintain.
Stoddart's Grated Urinals are WaterMark approved & certified. Boasting a 4 star water rating, it is clear that this is the most efficient urinal on in the market.
Ensuring optimal hygiene has been a carefully considered factor in the design of Stoddart's grated urinals. Constructed with full depth, stainless steel sides provides the highest level of hygiene. The walk on grate is resistant to corrosion and hinged for cleaning access.
The Stoddart grated urinal is supported fully on legs, enabling easy installation. It can be set into the flooring so the top grate is level with the floor or set on the floor where it can be fitted with an optional stainless steel front kick panel. Whichever installation style is followed, Stoddart grated urinals fit every style because it is custom designed to suit any amenity area; from hotels to stadiums, Stoddart is changing the game of urinal instalments.
Due to the high strength, hygienic stainless steel, and slip resistant grate design, Stoddart grated urinals surpass the standards in terms of build stability and sanitation. Ensuring unwanted stains and particles will not stick to the surface all internal corners are built with a large radius, so cleaning and effective drainage has never been easier. Freestanding end panels are an option and units can be made into sections to avoid onsite welding. The top edge can either have a tiled edge or a returned edge.