High Speed PVC Fold Up Doors from DMF International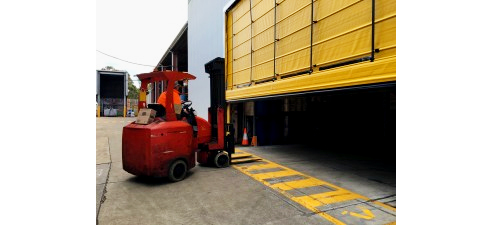 DMF recently completed a project for a client in Sydney that had some wide openings requiring improved sealing against dust and vermin entry. The width of the openings were nearly 7.5m which exceeds what a standard rapid roll door can accommodate, and so DMF brought about a solution by fitting their new High Speed Fold Up PVC doors.
This model can be used on wide openings exposed to wind, due to the design of the panel being lifted by straps, rather than the panel rolling over a roller tube. This allows larger and more frequent horizontal windbars, while still maintaining an operating speed of 1.0m/sec. The Fold Up door can be custom manufactured up to 60m² of opening, and even larger openings with a dual panel design but with a slower operating speed. With special windlocks, the wind speed capacity is almost 80km/h.
Normal safety sensors are applicable to ensure and efficient, and safe product design.
Contact DMF for more information, or an assessment of your application.