Environmentally Friendly Decking Oil from Livos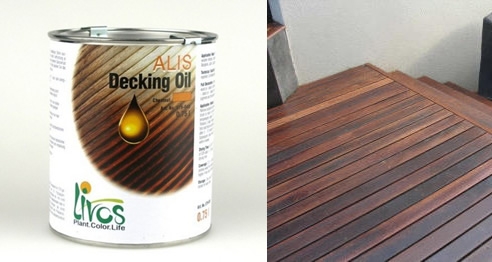 Alis decking oil from Livos is a natural and eco-friendly exterior timber oil. Alis decking oil is a water resistant and open-pored oil for the treatment and care of deckings and wooden facades. It dries quickly, refreshing wooden surfaces without chipping or flaking staying smooth and easy to care for.
Available in 6 colours/stains:
- Chestnut suitable for Merbau
- Light Teak for Jarrah
- Oak for lighter timbers such as Cypress
- Boxtree for those looking for the closest appearance to clear
- Black
- Slate Grey
Livos Australia offers a 100% fully declared and natural range of eco friendly paints, oils, stains and cleaning products. These are healthier, practical alternative to conventional chemical based products without bringing dangerous and unnecessary toxins into the home or workplace. Our products are biologically degradable, sustainable and harmless, even in direct contact with humans, animals and plants. Safe for your home, family, and our environment without compromising quality or durability.
Learn more about Alis environmentally friendly decking oil from Livos by visting the website: www.livos.com.au