Wainscoting Decorative Wall Panels from Intrim Mouldings
Wainscoting Design Decoded
"What is wainscoting called in Australia?" is a question we are often asked, and the answer really is simple, it's called 'wainscoting.' Confusion sets in as there are many types and names for 'wainscoting' that are used interchangeably or between different applications onto the wall, so here's the difference:
Wainscoting is a broader term used to describe decorative panelling applied to walls. Originally it was used as a insulation, to prevent damage to walls and hide rising damp but now are used as a beautiful decorative feature.
Frame and Panel
Most commonly, wainscoting is made up of panels or frames and usually covers just the lower third of a wall and is topped with a decorative chair rail (also known as dado rail).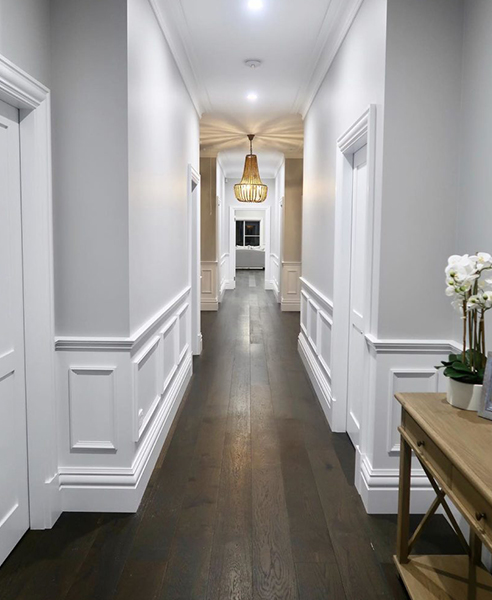 When using frame and panel (or just frames on their own), there are many ways they can be applied to the walls:
Traditionally with framing on the lower half of the wall with a chair rail;
Framing above and below the chair rail;
Top and bottom framing with no chair rail; or
If you want to go all out you can double frame.
Applying wainscoting using the board and batten method is the traditional application. This involves applying MDF or timber sheets to the wall, applying flat boards to create the 'squares' and then applying the inlay mould (which usually has a rebate cut from the back) on the inner lip of the timber.
The type of panel used determines the name of the wainscoting... raised panel examples are above, as well as flat panel, board and batten and beadboard (also known as lining board or v-joint board).
Flat Panel, Board & Batten and Shaker Wainscoting
This is a simple type of wainscoting that produces clean lines and a 'shaker style' look. There are a few ways to achieve this look. You can add a sheet of MDF or similar board is placed on the lower part of the wall to produce a bit more projection and then arrange flat DAR profile in a square or rectangular configuration to create the batten.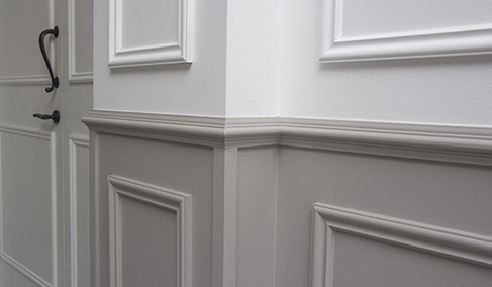 The simpler way to achieve this is to apply a flat DAR timber profile directly onto the wall. Again, the way you can apply this style to the wall is varied and can be used on the lower third of the wall with a chair rail or applied to the entire wall.
Beadboard or Vertical "V" Lining Board Wainscoting
Beadboard in Australia is created using V joint or ship lap lining boards. Put simply, a row of narrow wooden planks are fitted together and lined vertically on the wall. Between each wooden plank is a little indentation or a ridge, also known as the 'bead'. The vertical boards are capped off by a Chair rail or Dado rail which usually has a rebate in the back so it sits neatly over the top of the boards and partly flushes against the wall.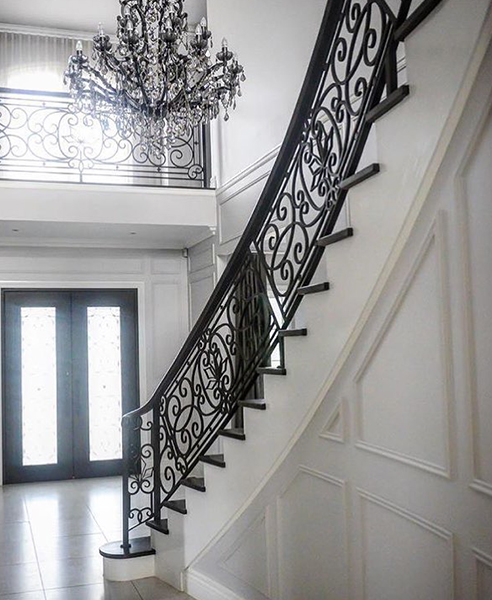 Beadboard, or vertical lining board, can be used anywhere in the house, on the ceiling, as a kitchen splashback, in an entry or hallway, but is most commonly found in bathrooms.
Bold colour choices can allow this style of wainscoting to take on a more country or modern feel as seen below.
No matter which wall panelling or wainscoting you choose, or what you call it, it is guaranteed to add value and a stunning design element to your interior.
For more information on wainscoting decorative wall panels, visit www.intrimmouldings.com.au today.