Impact-Resistant Doors from Premier Door Systems
You may have been in your local supermarket and seen those odd-looking doors leading out to the stockroom. If you've ever been wondering what kind of door this is, well it's a High Impact Thermal Traffic Door (HITT). A HITT door has multiple uses in various industries - here are just some of the best reasons why.
Timber Free = Sanitation

Manufacturing giants, food processors, and larger commercial kitchens take quality control seriously. Contamination can easily go unnoticed in these areas if proper sanitary measures are not taken. These places undergo rigorous sanitation procedures to ensure the prevention of germs spreading in the area.

The beauty of HITT doors is that they come completely TIMBER FREE and are equipped with a high-density polystyrene core that prevents water absorption and bacteria. Since polystyrene is optimized for insulation, the door also helps preserve the temperature inside the room.

It helps increase efficiency

Retail giants, like Woolworths, IGA, Dan Murphy's, and TK MAXX stores experience high volumes of traffic every day. Since suppliers, employees, and dealers move in and out these vicinities frequently, a typical door would affect the overall productivity in the workplace. Installing the HITT door will help increase everyone's productivity and enable the smooth functioning of day-to-day tasks with ease.



Can take a hit

The best feature about traffic doors is that they're built to withstand blows of high impact, even with heavy use. As people who work in supermarkets and other similar setups normally juggle moving around many things (literally), a normal door will easily wear down due to frequent usage and accidental blows from hand trucks and other heavy machinery.

HITT doors come equipped with the best materials to endure heavy duty work. Commercial doors like this can be installed with spring bumpers, and have chemical resistant Thermoplastic skins with a textured surface, masking scratches even with high impact blows.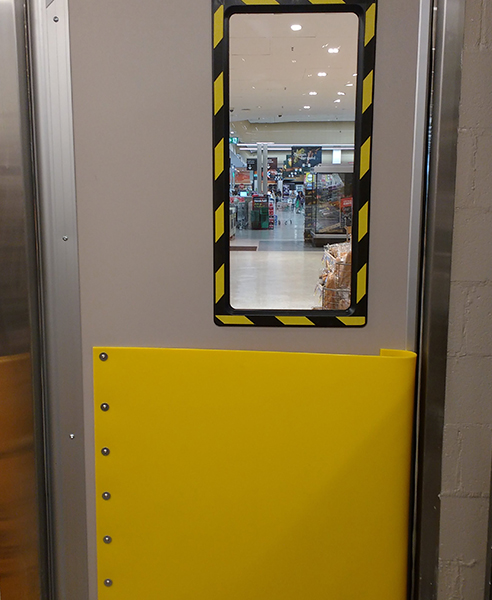 Secure the best doors for your business with Premier Door Systems. We have a wide array of commercial and industrial doors manufactured and designed locally, with short lead times and a guaranteed backup service.
Our team of experts are happy to provide professional installation and maintenance services as well. Call us today to get your hands on one of our Premier Door Systems or visit www.premierdoors.com.au.