Hygienic Doors with Fire Rating from Premier Door Systems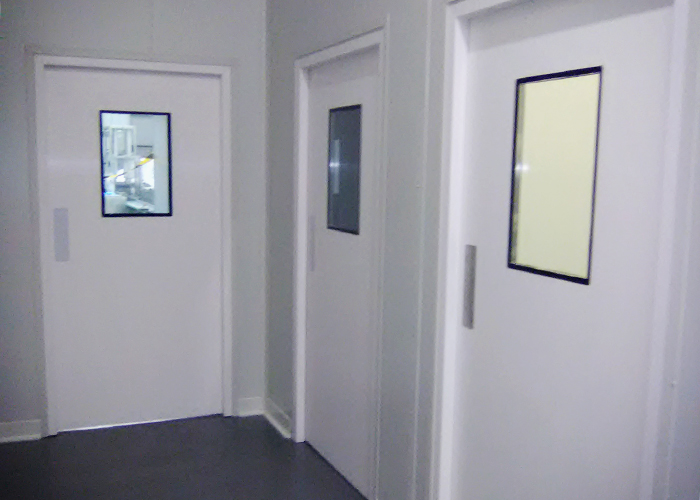 Premier Door Systems are proud to offer the range of Dortek hygienic doors throughout Australia. These doors are characterized by their construction of Glass Reinforced Polyester (GRP) and contain no organic material. With a smooth and seamless construction, Dortek doors have no ledges, recesses, or right angles where dust or bacteria can be trapped and grow. This makes Dortek doors the ideal solutions across a wide variety of areas requiring maximum hygiene, cleanability, and durability. These doors are particularly suited to pharmaceutical, food, health, retail, and leisure environments.
Unlike timber or steel doors, Dortek Hygienic GRP doors are non-shedding and will not warp, swell, rot, or rust, even in the most arduous conditions. Dortek's doors are extremely strong and durable, yet light and easy to operate. The built-in colour of our doors is aesthetically pleasing and requires no maintenance.
Premier and Dortek can also provide this range with a Fire Rating, combining safety without compromising high standards of hygiene and durability. Unique to Dortek, our patented concealed intumescant strip is built into the door during the manufacturing process. This maintains a smooth, seamless profile ensuring that there are no seams or ledges where dirt and germs can gather. The intumescent strip is activated by the heat of a fire and expands to create a sealed fire door.
We currently have over 50 independent tested door specifications compliant with worldwide regulations. Our GRP fire doors are tested and certified to the following worldwide standards:
EN 1634 - 1 (Pan European Standard) Certified from F30 to F300.
ANSI/UL 10-C (US Standard) Certified F30 and F90.
GB-12955 (China) Certified F30 and F60.
Singapore SS332 : 2007 (Singapore Standard) Certified from F30 to F120.
BS 476 Pt 22 (British Standard) Certified from F30 to F240.
EN 1634-1 CSTB (France) Certified from F30 to F180.
AS 1530.4-2005 and AS1905.1-2005 (Australia and New Zealand) certified from F30 to F120.
Want to learn more about Premier Door Systems and the Dortek range? Visit www.premierdoors.com.au.