High-quality Equine Flooring Mats from Sherwood Enterprises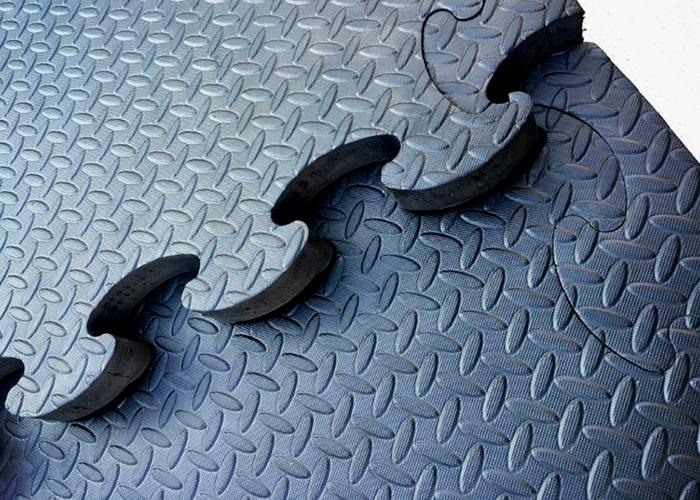 Buckaroo Barn Stable Stall Equestiran Horse Flooring
Doesn't your horse deserve the latest therapeutic anti-fatigue quality durable comfortable horse stable stall flooring?
At Buckaroo Barn we searched the world to stock and market high quality stable stall flooring in Australia that provides hygienic flooring, slip resistance, security of step, safety, and cushioning comfort; Matting promoting wellness for horses in stable stall and float trailers. Plus they are non-toxic. We even have gone as far for horses comfort, safety, and wellness by stocking a range of 4003 portable, internationally acclaimed Showmatz to take to horse events for ground comfort rather than have your horse on concrete or wet ground - as proven and sold in Germany, the United Kingdom, USA, and now here in Australia at Buckaroo-barn!
Buckaroo Barn cushioned 4003 interlock Showmatz are 970mm x 970mm x 32mm thick and 4005 are 1830mm x 120mm x 34mm thick;
Range 4005: Cushioning system stable stall flooring the Equine Performance Industry advises less leg fatigue and a reduction in tissue fluid accumulation. It is known to ease arthritic or inflamed joints encouraging the horse to rest longer with excellent insulation, comfort, and then rise more rejuvenated to perform (NB: once interlocked the matting acts as a single mat).
Range 4005: Therapeutic cushioning support reduces or eliminates stocking up and hock sores plus reduces the risk of musculoskeletal disorders (MSD). These disorders are injuries or pain in the bodys joints, ligaments, legs, muscles, nerves, plus tendons, etc. Closed cell cushioning is known to promote blood circulation.
Range 4005: Importantly, Buckaroo Barn interlocking horse ranges, 4003 and 4005 provide for all horses and humans working in such indoor environments. For stable stall indoor air quality and in particular for horses with COPD disease or allergy illnesses, the matting virtually doesn't emit toxic VOC fumes. Relevant to its 100% impermeable, non-porous, non-absorbent structure - so urine cannot sink into the matting to form toxic ammonia - smelly odour plus bacteria growth cannot be promoted in the matting and pathogens, flies, etc.; Breeding grounds are significantly reduced.
The 4003 and 4005 horse mats are semi-rigid, light in weight, but just as durable and tough as 100% rubber matting. The factory innovative designers have calibrated the matting with a hardness and softness, Shore C density to replicate a natural agistment paddock.
We also market Buckaroo Barn ranges 4004 wash bay interlocking rubber mats, range 4008 recycled rubber interlocking pavers, and range 4009 reinforced drainage grid cell pavers - stopping mud 24/7 and providing a safe surface - to withstand when filled. 4009 features a snap on interlocking system that once locked, stays locked.
Importantly, our Buckaroo Barn ranges are designed for DIY installation saving on cost labour outlays. For more information, visit buckaroobarn.com.au today.