Roof access solutions from Attic Ladders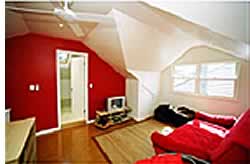 Roof Access Solutions, a new member of the Attic Group of Australia, has been established to develop a working relationship with those involved in the building industry. A stable mate of Attic Ladders Pty Ltd and Roof Space Converters, Roof Access Solutions has been set-up to persuade architects and builders, property managers and bodies corporate to install a foldaway attic ladder to give easy and safe access to the roof space.
Air-conditioning plant and other plant in your roof space or on roof tops have long been a feature of building design. Owners and planners are under increasing pressure from authorities to substitute dangerous external access with the more reliable internal ladder access. The demand for safe roof space access is leading a growing design and installation of innovative solutions for roof access in new projects of all sizes and types.
Roof Access Solutions can provide safe and easy internal access to air-conditioning, telecommunications electrical's, water tanks and other equipment in all types of buildings and roof types. The company distributes suitable ladders nationally and offers a complete service from appraisal and expert advice to installation and after-sales service.
Ladders Outta Here! Attic Ladders is your one-stop shop for everything ladders.
Australia's premier marketers of foldaway attic ladders, the aptly-named Attic Ladders Pty Ltd, has a bigger stable of ladders than Gai Waterhouse has racehorses. The company, which introduced the innovative foldaway attic ladders to Australia in 1975, has a wide range of domestic and commercial attic ladders to suit all needs.
Attic Ladders boasts four types of timber ladders occasional use through to heavy traffic - the Studio Truss, Atticmaster, The Upgrade and arguably the best timber foldaway ladder in the world, the top-of-the range Stairladder.
The Stairladder is comprises Australian-made products and is assembled at the company's head office at Tempe in Sydney.
Attic Ladders also markets two aluminium ladders for the domestic market, the Alufix concertina ladder and the Alustep, a three-section sliding ladder. The Columbus and Alumin ranges of concertina ladders offer a convenient, safe and effective access solution for both commercial and domestic applications. Ideal for accessing air conditioning equipment, telecommunications/antennas, electrical and switching plant or for general storage use, the Columbus and Alumin ladders are available with manual or automatic operation options and can be installed with optional lock for security purposes.
So if you are thinking ladders, think Attic Ladders Pty Ltd, the top of the rung in the ladder business. Attic Ladders Pty Ltd - they're really on the up-and-up!