Duratherm by MPS Paving Systems - traffic tough decorative paving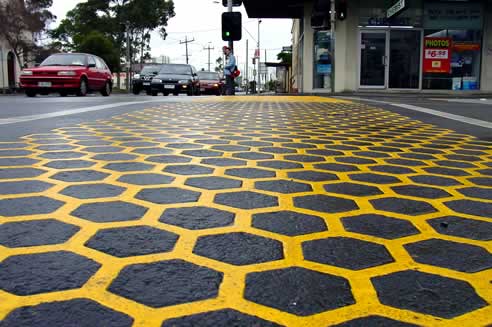 Vic Roads, as an introduction to DuraTherm™, chose a heavy trafficked Highway which incorporated both asphalt and concrete substrates.
The location required an aesthetically pleasing delineation of 65m² of pedestrian walkway at the intersection of Sydney Rd and Glenlyon Rd. Sydney Rd is one of Melbourne's most heavily trafficked arterial roads in and out of the CBD. This road is not only subjected to light and heavy vehicles but also has two central tramlines.
Due to high traffic volumes and tram timetables all works were carried out at night. With the assistance of Sachs Traffic Management was applied to both crosswalks simultaneously using two application crews. The DuraTherm™ was applied using the heating and inlaying process on the outer asphalt lanes and surface applied on the inner concrete tram lanes. Application was conducted in near freezing conditions with an ambient of just 2°C.
Again the benefits of DuraTherm™ were highlighted as the product and process allowed for a very fast installation allowing re-opening to traffic the next day. And it delivered a highly visible, durable inlaid decorative surface that it is virtually maintenance free.