Epoxy walkways and line marking by Poly-Tech Industrial Services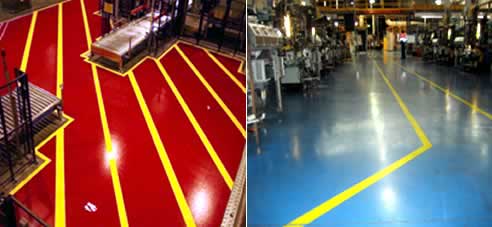 Highly visible and long lasting epoxy coated walkways and line marking is the time and cost effective solution to indicate every facilities safe traffic management plan.
The prevention of workplace OH & S incidences continues to be paramount for all industries as employers aim to ensure a safe and injury free environment. A business's ability to highlight designated pedestrian and vehicular traffic areas is an essential component in eliminating accidents involving machinery and vehicles
Poly-Tech's great experience with concrete preparation and epoxy application in all industries gives great assurance that your project will be completed to budget, specifications and any strict time constraints to minimise any thought of a long shut down time
Epoxy line marking is the cost effective solution in comparison to other methods. Its long term durability will provide a system that will not need an annual reapplication - thus saving time and money in coordinating the same project every year!
Walkways and lines can be applied to various substrates either in conjunction with other protective floor coatings or as a stand alone form of identification. The multitude of colour's available provides contrasting areas to highlight safe areas, no go zones or any other traffic management requirements.
Another Poly Tech solution.