In Slab Heating from Comfort Heat Australia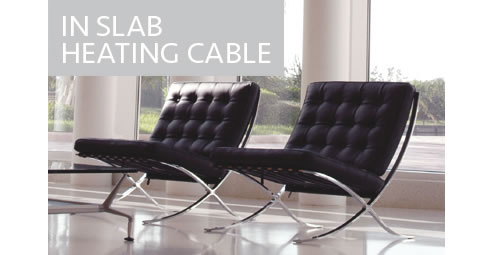 IN SLAB HEATING CABLE
HCS-BR
APPLICATIONS
The HCS-BR heating cable is used for In-Slab heating applications. The HCS-BR is suitable for large areas where the slab is used for heat storage. The cheapest electricity needs to be used, either off-peak, if available, or using a timer to ensure off peak rates. HCS-BR has a slow response time and will take between 10 - 24 hours to heat up, depending on slab thickness.
CABLE TECHNOLOGY
The HCS-BR is a flexible double insulated single cable system, with a multi-strand heating cable and kevlar core, where required, giving superior strength to prevent cable failure due to slab movement.
HEAT OUTPUT
The HCS-BR cable has a heat output of 160W per m2 at 200mm spacing and is available in pre-determined lengths ranging from 30m to 200m. Comfort Heat staff can select the correct cable length for your heated area, with a 200mm clearance from walls and fixtures.
INSTALLATION
The HCS-BR cable is installed before the slab is poured. The cable is attached to either the mesh (ie. F72) or the reinforcing rods that have 200mm centres (one direction only).
SPECIAL REQUIREMENTS
HCS-BR can not be installed across expansion joints. Comfort Heat must be informed of any expansion joints in the slab. For large areas multiple cables will be installed.
TECHNICAL DATA
Cable Type Single conductor heating cable with earth screen
Construction iMulti-stranded heating wire wound around kevlar core with double insulation, earth screen and sheath
Insulation 4000 V
Rated Voltage 240 Volt AC; Rated output 30W/m
Cold Tail Length 4 metre with splice connection
Cable Diam. 5.5mm
Cable Standard IEC800 Class II
Warranty 10 years