Mechanical Flooring Preparation from Danlaid Contracting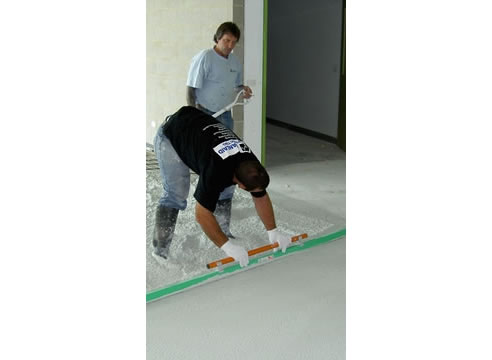 Danlaid Contracting specialises in the preparation of concrete floors leaving them ready to receive finishes such as vinyl, carpet, timber, ceramic tiles, and epoxy coatings. We have a number of ways of preparing the floor mechanically including the following methods:
Epoxy Flooring
Danlaid Contracting specializes in epoxy flooring to supermarkets, both new and refurbished areas. Danlaid has experienced staff that can minimize the down time to the area being refurbished, such as Deli's, Meat rooms, Produce areas or even the sealing of concrete in the back of house store room.
Scarifying
Available, again in a range of sizes, depending on suitability of the job at hand. A Scarifier shaves off the surface of the concrete in 5mm increments per pass, dependant on the strength of concrete being treated.
Diamond Grinding
Our range of diamond grinding machines, either single phase, 240 volt or 20 & 32 Amp 3 phase powered models are a dustless & quick method of removing a range of contaminants from the slab surface prior to installing or applying following floor finishes. Diamond Grinding is particularly useful where difficult access situations arise.
Removal of Floor Covering & Topping Screed
When we remove vinyl, carpets, ceramic tiles and concrete screeds from the slab by either of these two methods.
1/ Ride-on Hydrolic Stripper, Gas Powered
or 2/ Bobcat with a profiling Head attachment
Captive Shot Blasting
Our shot blaster is a 12E SPE and is capable of cleaning (for example) a slab of old adhesives at a rate of 400 - 600 m2 per shift. Shot blasting is a very effective method of roughening a concrete slab prior to resurfacing.
Concrete Repair & Protection
Danlaid Contracting has completed a bridge restoration project for Melbourne Water. The Project consisted of 5 bridges, where the concrete had to be protected and repaired.